"An investment in knowledge pays the best interest."
Benjamin Franklin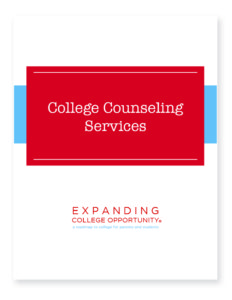 What is it?
College counseling services designed to help students gain admission to college, succeed while in college, and graduate from college
Who is it for?
9th -12th grades students
What are the objectives?
Assist students to gain admission to a college that is a good fit
Maximize the opportunity to win institutional scholarships/grants and private scholarships/grants
Minimize the need for student loans and Federal Plus Loans for Parents
What do you get?
Group 1) 9th -10th graders
$3,750/semester. Required coursework in one of our study skills and writing skills programs.
We help students adjust to the rigor of high school classes and likewise to perform at an optimal level during the early years of high school. Our services include weekly 30-45 minute counseling sessions in the following areas:
Goal setting for the high school years and beyond
Academic and study skills coaching
Course selection and planning
Extracurricular activity planning
Volunteer activity planning
Test prep coaching and planning
College selection and research
Group 2) Rising 11th graders through first semester seniors (we start as early as the summer after a student's sophomore year)
$9,500 flat fee for up to 40 hours of counseling services starting from the summer before the student's junior year and continuing through November 30th of the first semester of the senior year. We provide counseling sessions in the following areas:
Student goals identification and alignment with college options
Parent and student goals identification and alignment
Creation of an application timeline and completion schedule
Student personality and career assessment testing & evaluation
Transcript, community service, and extracurricular activity review
Standardized Test (SAT/ACT) review and scheduling plan
Application recommender review and assessment
Review and assessment of your prospective college list
Preparation of a student resume
A review of up to five college admission or scholarship essays
Editing and proofreading support of your admission and scholarship applications prior to submission
What are the benefits?
Perform at an optimal level during high school
Increase your college options
Develop key executive functioning and life skills in the areas of goal setting, study skills, and writing skills
Prepare your best college admission application
Position yourself to win scholarship money
Enjoy peace of mind from having a personal coach
Reduce stress and anxiety associated with applying to college
How does it work?
9th – 10th grade counseling sessions typically start during August of the fall semester and January 15th of the spring semester.
11th grade counseling sessions typically start during the summer between the sophomore and junior year and concludes November 30th of the student's senior year. You may enroll at anytime if there is space available.
The counseling services may take place in-person, via phone, or via online video conferencing. Your location does not matter.
A limited number of counseling spaces are available each year. Register today.
Who is the counselor?
Stan Lemons is only accepting 12 students for college counseling services during the 2019-2020 academic year. Reserve your place today!
How to register?
Tell us about your student here.
Pay your non-refundable $1,500 deposit here.
The $1,500 non-refundable deposit is required to reserve your space. The payment balance is due 30 days after the initial deposit. Payment plan options are available. Additionally, you may contract for our 9th-12th grade comprehensive four-year high school counseling services and save over 10% on the four-year counseling service fees.
Download Brochure
College Counseling Services
Featured Testimonials
Mr. Lemons' help enabled me to navigate my way through the labyrinth of the college admissions process. His book provided me with facts and information necessary to understand what was going on. His personal guidance helped me organize my thoughts and goals to write effective essays, structure my time to meet deadlines, and find the colleges that were my best options. He also gave me advice on interviewing. Overall, he has been supportive and encouraging throughout my college search process.
Peter Kotara, Student
—–
Stan Lemons has mastered guiding students on the journey of college applications and admissions. His advice helped me to grasp the steps my son had to go through, which had changed monumentally since I applied to college. He let my son take the lead throughout the process, while providing clarity, insight, and thought-provoking suggestions. I was so glad we had Stan to turn to as questions came up along the way. He even did some fast editing of essays when we were rushed. He truly is there for you when you need him!
Ellen Kotara, Parent and Attorney
—–
To whom it may concern,
Stan Lemons was a critical support to our son in the process of his college application. At the time Tripp applied to undergraduate school, he was very unsure of his writing skills and nervous about his ability to get into a good school. Stan tutored him not only in writing his essay for admissions, but also encouraged him to apply both to the schools at the top of his list and to some not on his list that were even more difficult to get into. He did a great deal for our son's self-esteem.
Tripp was at the Latin School of Chicago, a private independent school, applying to a range of competitive colleges. Stan talked with Tripp as Tripp struggled with a theme to answer the various questions on the multiple college applications. Once Tripp chose a theme, Stan asked him to write the essay. With a first draft of his essay, Stan walked him through the process of editing and rewriting until Tripp had an essay that came from his heart and showed the admissions committee who he was. The essay was finished when it showed the relevance of his theme on Tripp's life and thinking. Stan coached him, but when Tripp had a finished product, it was clearly his own thoughts and writing. It was authentically Tripp's essay – and a well written personal statement. Walking someone through this process until they have an authentic piece of work is quite a task, and Stan seemed to be a natural at this process. It required commenting, teaching and then standing back and allowing the student to do the work himself building on his writing and editing skills. Stan was gifted at this. Tripp was accepted early admission at Kenyon College in Ohio.
There aren't words to express how much this meant to us. As parents, we couldn't help Tripp through this difficult task. Our thoughts and ideas were too caught up in our own hopes and wishes for our son. Stan stepped in with great skill and did a better job than we or anyone else could have done. Tripp, for once, truly enjoyed the writing process.
If you have a chance to work with Stan, I recommend you take it. You won't be disappointed.
E. Baldwin