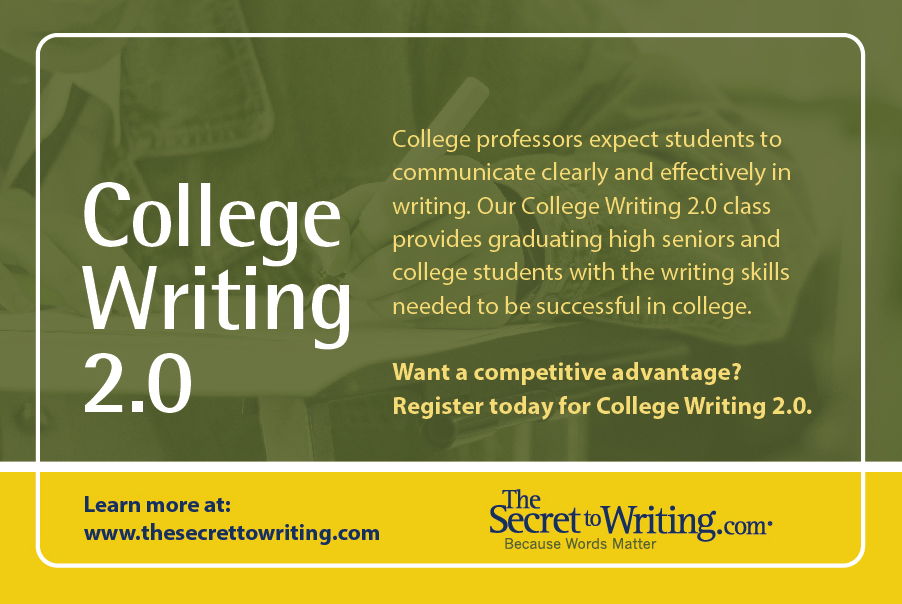 Thursdays, February 10, 2022 – March 17, 2022, 5:00 p.m. – 6:00 p.m. CST
Success in college depends — among many factors — on your ability to communicate through writing. Humanities classes, as well as science classes, require you to write. If you are a math, business, or engineering major, it is also important to have strong writing skills. Why? College professors and future employers expect students to be able to communicate clearly and effectively in writing. Nervous? Concerned? Anxious? Don't be. We are here to help. Our College Writing 2.0 class will equip you with the skills you'll need to meet and exceed the writing demands of your college professors. Plus, the Writing 2.0 class will prepare you for the writing tasks that are commonly required in the job market.
Key Learning Objectives
Insights on how to meet and exceed your professor's expectations on writing assignments
Strategies to ensure you meet deadlines for writing assignments
How to exercise critical thinking skills in the process of writing academic essays
Foundational grammar skills
Practices to better organize your writing
Editing techniques
Ways to avoid plagiarism
Tips to help you get A's on your papers and in your classes
Structure
6-week online class
Students can see and communicate with the instructor during each class
Meets one-time per week for one-hour
Weekly homework assignments
Benefits
Reduce anxiety associated with college writing assignments
Build your confidence in writing
Develop writing and study habits to support your success during college and after college
Improve your grades in school
Cancellation Policy:
We reserve the right to cancel courses due to insufficient enrollment. In the event a course is cancelled, please allow 4-6 weeks from the scheduled date of the course to receive a refund. We also reserve the right to require the withdrawal of any participant whose conduct is unsatisfactory or who appears unlikely to benefit from the program. If the directors of the program make this decision, a refund will be given for the remaining portion of class fees. We reserve the right to make staffing, schedule, or location changes as may be necessary.
If you are not able to attend the class for which you are registered, you may substitute another person in your place at any time with no penalty.
If you wish to cancel your registration 15 days or more before the public workshop, you will receive a complete refund, minus a $100 processing fee per cancelled ticket. Please allow 4-6 weeks to receive your refund. No refunds will be issued to any registration cancelled 14 days or less before the event.