Stan's How to Study Class (online, live webinar)
"Do you want your child to be successful in school?

Stan's How to Study Class provides students of broad academic backgrounds with the skills, strategies, and actions to be successful in school, and ultimately to achieve the results that both students and parents wish for. Whether you're in middle school, high school, or college, Stan's How to Study Class will help you succeed.

Space is limited in each class. REGISTER TODAY"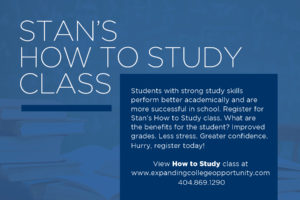 WHAT IS IT?
An online live webinar class (i.e. students can see and communicate with the instructor) designed to help students be more successful in school.
Students are equipped with easily implementable how to study skills, strategies, and actions that aim to have an immediate impact on the student's performance in school.
WHO IS THE HOW TO STUDY CLASS FOR?
Middle School Students – improve your academic performance in middle school and likewise get a head start on fine-tuning the study skills you'll need to be successful in high school.
High School Students – grades and the rigor of your high school classes are fundamental to the college admissions process.  Having strong study skills serves as the foundation for earning good grades in school, regardless of the subject you are studying.
College Students – college classes are demanding, even for the student who excelled in high school. Strong study skills are essential to your ability to do well in college and ultimately to graduate on time.
BENEFITS OF THIS CLASS?
Improved grades in school (which, by the way, increases your chances for scholarships, admission to academic programs, and job opportunities)
Less stress, particularly with regard to completing school assignments
Greater confidence on the part of the student in terms of his or her ability to do well in school
Convenient and time-effective online interactive live webinar class, which the student can communicate with the class instructor and access the class itself from anywhere in the world where there is an internet connection
WHAT IS INCLUDED?
Goal Setting
Organization Skills
Time Management
Note-Taking
Communicating with Teachers
Preparing for Quizzes, Tests, and Papers
HOW IS THE CLASS STRUCTURED?
One-hour per day for five days (A total of 5 contact hours), plus homework
The student can access the live webinar class via computer, iPad, Iphone, or Android phone from any location where there is an internet connection
Students can see and communicate with the instructor during the webinar
The class meets on specified dates and times. You select which class section you would like to participate in.
CASE STUDIES
Case study#1
Situation
Richard is a "B+" student. Yet his parents and teachers know he can easily be an "A-" or "A" student. What can Richard do?
Thoughts
Stan's How to Study Class can provide Richard with strategies to improve his study habits, which stands to positively impact his results on school assignments and ultimately improve Richard's grade point average (GPA). Stan's How to Study Class will not only help Richard perform well in high school, but also the class will give Richard a competitive advantage by preparing him to meet the increased demands and rigor of college.
Case study#2
Situation
Tyler is in middle school and is just learning how to study. Her parents recognize the importance of good study skills in order for Tyler to be successful in both middle school and high school. Tyler's parents want her to go to college. Her parents are willing to invest in Tyler's development at an early age because they know it will pay off in the future.
Thoughts
Tyler's mom and dad are spot on. Tyler's parents know that 50 to 60 percent of a student's success in school results from strong study skills, not raw intelligence.
Case study#3
Situation
Michael has been struggling in college. This situation is frustrating for Michael and Michael's family. Even Michael's professors know he is a highly capable student. Michael needs study skills and strategies to help him be successful in school.
Thoughts
The solution for Michael is Stan's How to Study Class.
LEARN MORE AND REGISTER