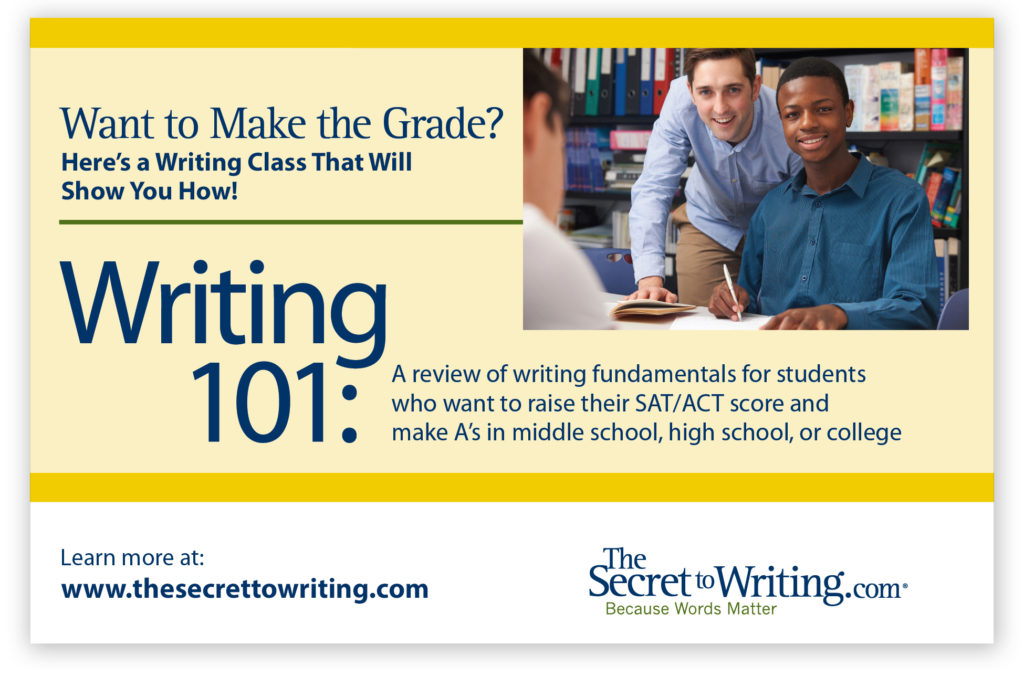 Good writing informs, persuades, and inspires. It can make us laugh out loud, and it can challenge our hearts and minds. Good writing also takes training and practice to develop. That's where we come in. Our Writing 101 class teaches you the essentials of effective writing. You'll learn everything from formulating a thesis to writing clear sentences. Plus, we'll explore the 10 secrets to writing. You'll return to school ready to tackle any writing project with ease.
Writing 101 (online live-webinar)
Logistics:
6-week class, 1 time per week for one hour. Plus, homework assignments.
Students (6TH -12TH grade) learn the writing process, grammar, and essay writing skills.
When
Tuesdays, June 15, 2021 – July 20, 2021
6:00 p.m. – 7:00 p.m. EST
5:00 p.m. – 6:00 p.m. CST
4:00 p.m. – 5:00 p.m. MST
3:00 p.m. – 4:00 p.m. PST
Where
Online live webinar. Students can see and communicate with the instructor.
Cost
$349. Early-bird registration available.
Testimonials
"I think this class really helped me improve my writing. The class taught me new perspectives and new ways to complete a writing assignment. I think all the grammar assignments and the steps to writing helped me to better understand the writing process. I would definitely recommend this class to anyone who wants extra help or tips on writing."
Zoe, Greenhill School High School Student, Addison, Texas
"The teaching style and professionalism of the course is top-notch."
Parent, Greater Atlanta Christian School, Norcross, Georgia